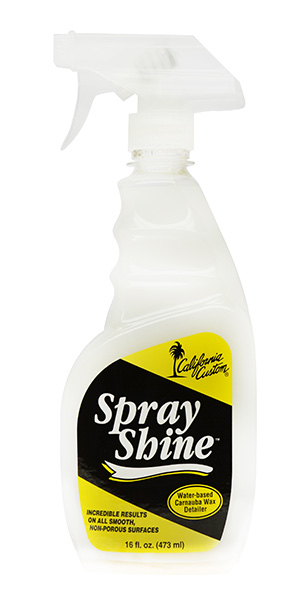 No Questions Asked, Money-Back Guarantee!
PLEASE NOTE:  Spray Shine is not designed to be a stand-alone product.  Rather, it is a maintenance product designed to be used in between applications of our M-Ron Glass paint wax.  If we notice that you have ordered Spray Shine but not M-Ron Glass, we will contact you to confirm your order.  If you want only Spray Shine, you can speed the processing of your order by stating "NO MRG" in the "Comments" section of your order.
A specially formulated WATER BASED spray on CARNAUBA WAX. NO AMMONIA, NO SOLVENTS, NO SILICONE, NO GARBAGE!
Like all of our products, Spray Shine™ can be applied in the DIRECT SUN, Even on BLACK! If you can work on Black paint in the direct sun, you've got every color covered.
Spray Shine™ WILL NOT turn white on rubber or black plastic. Spray Shine™ really does work! Spray Shine™ is not a spray wash. It is a serious spray wax that will give your ride an amazing shine! First, use our M-Ron Glass to thoroughly clean and wax the surface, then use Spray Shine™ after or between washings to help maintain the shine. Spray Shine™ will never smear or streak, EVER! (Do not use towels or cloths that have been washed with a fabric softener.) Formulated for paint, but found to work equally as well on any smooth non-porous surface.
Spray Shine™ was designed for the finest of finishes, car show enthusiasts, new car dealers and people who really like to take care of their vehicles. Just a quick spray and wipe will give your ride a complete new shine! Use Spray Shine™ on paint, glass, chrome, plastic, tile, lamps stoves, refrigerators, microwaves, mirrors, computer screens, WOW and the list goes on!
Spray Shine™ will give a high gloss surface an amazing CLOUD FREE SHINE!
WE GUARANTEE IT!